Mark your calendars! Summer Dead Period: July 29 - August 6 (AKA the best week to take a vacation, there will be zero practices or events scheduled during this time) First Official Fall Sports Practice: High School - August 7 Middle School- August 14 Must have 9 practices to be eligible for a jamboree; 14 practices for a game.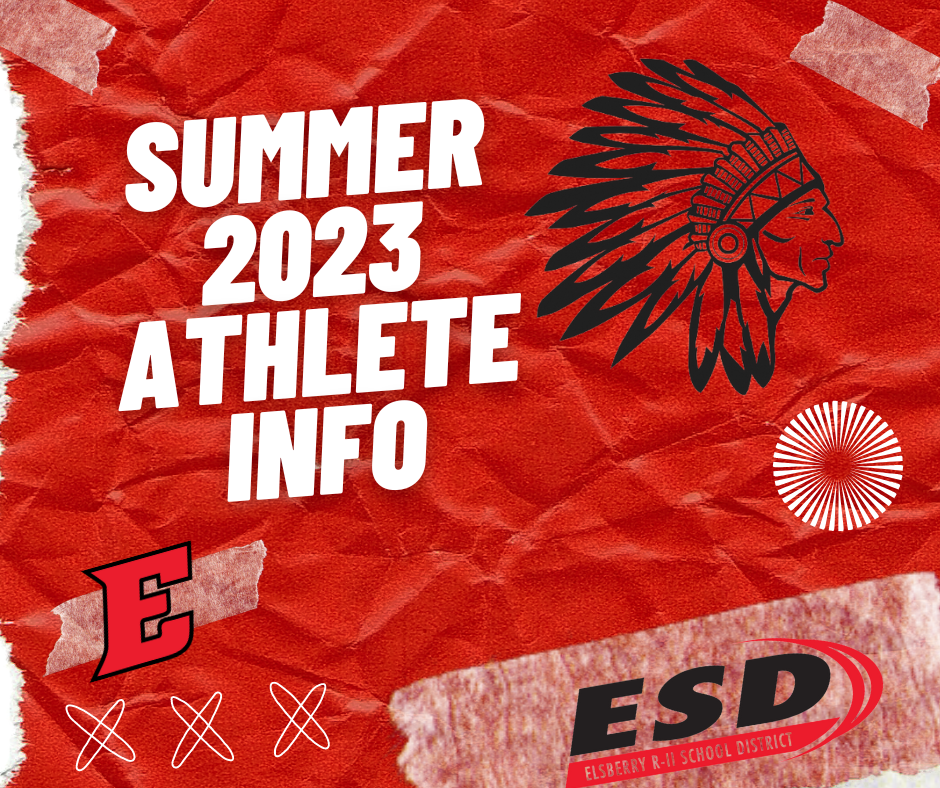 Kari Koch-Dowell just finished her seventh year at the Elsberry R-2 School District. This summer you will most likely find her with her family at a ballpark cheering on her nieces and nephews when she is not in the gym with her basketball girls.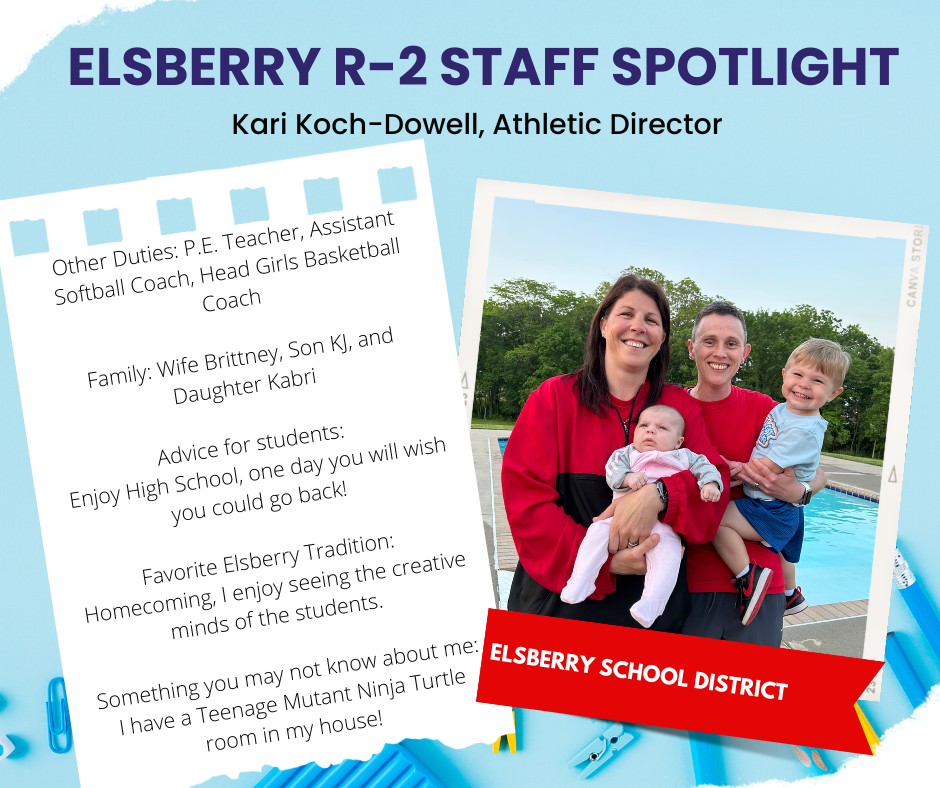 Years of Service Awards were given during our last day celebration. We appreciate the dedication these staff members have shown to our school, our students, and our community. Please thank them and congratulate them on their accomplishment if you see them out and about this summer. 5 Years of Service- Katie Wilch and Madelyn Helfer (not pictured) 10 Years of Service- Natasha Head, Crystal Meyer, Holly Duvall, and Chris Tiller; Dawn Mullins and Jen Love (not pictured) 15 Years of Service- Susan Painter 20 Years of Service- Deanna Zimmermann (not pictured) 25 Years of Service- Donna Pott and Phillip Riffle (not pictured)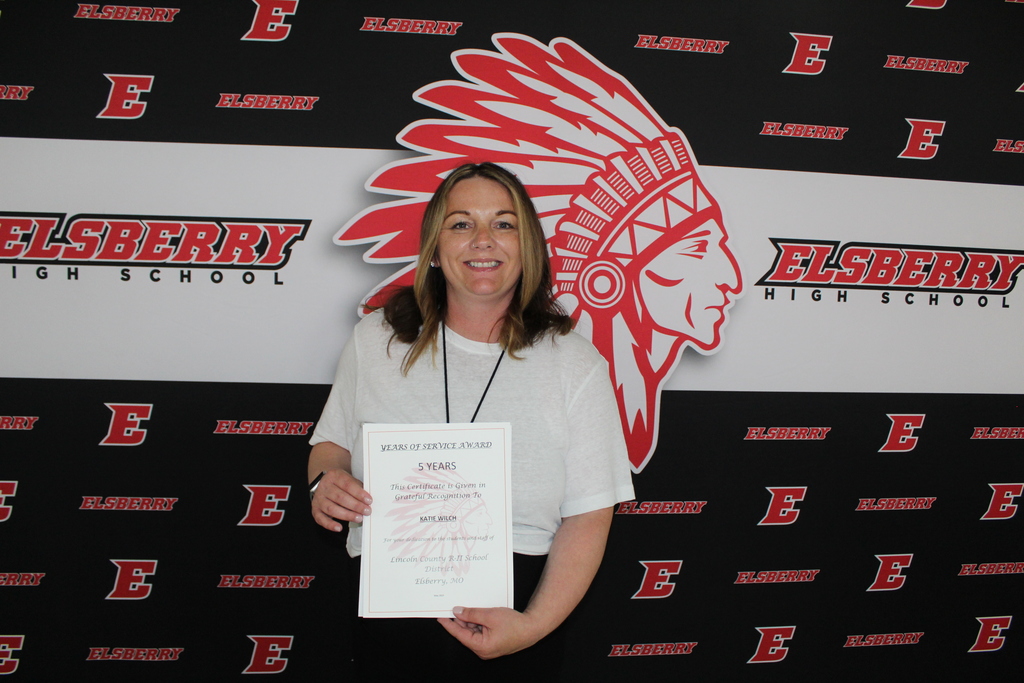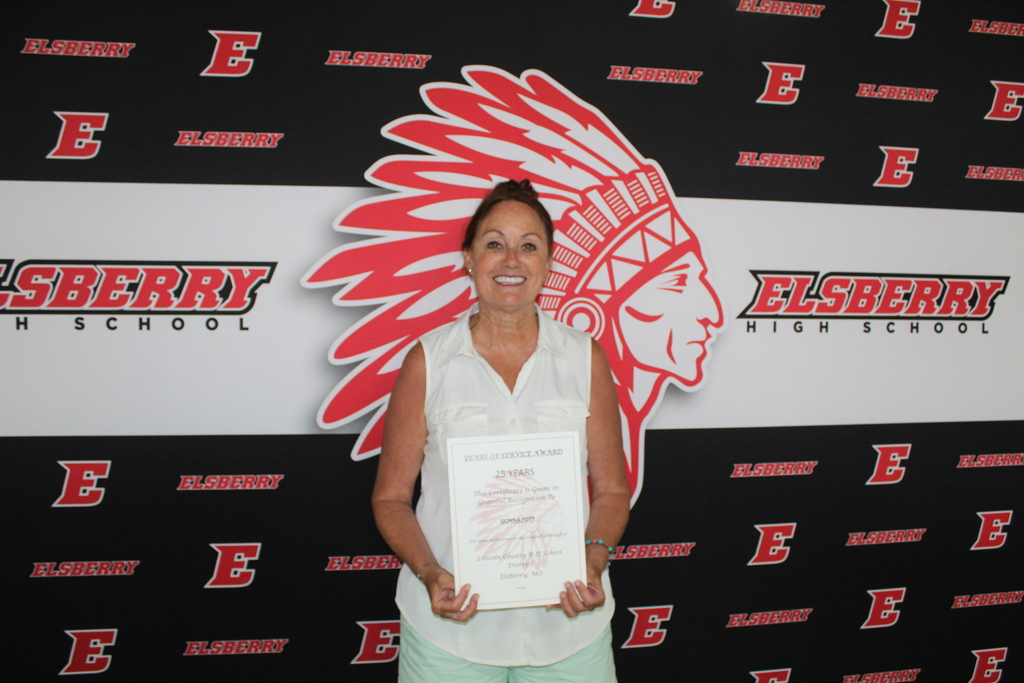 The Elsberry R-2 School District ended the year honoring the retirees leaving with a cumulative total of 110 years of service in our District. The experience and expertise of this group will be greatly missed in our schools. Thank you for your dedication to our students. Wishing each of you a magnificent retirement. L to R: Beth Noe, Kim Jones, Judy Markwardt, and Kenna Heitman; Not pictured: Katie Lagemann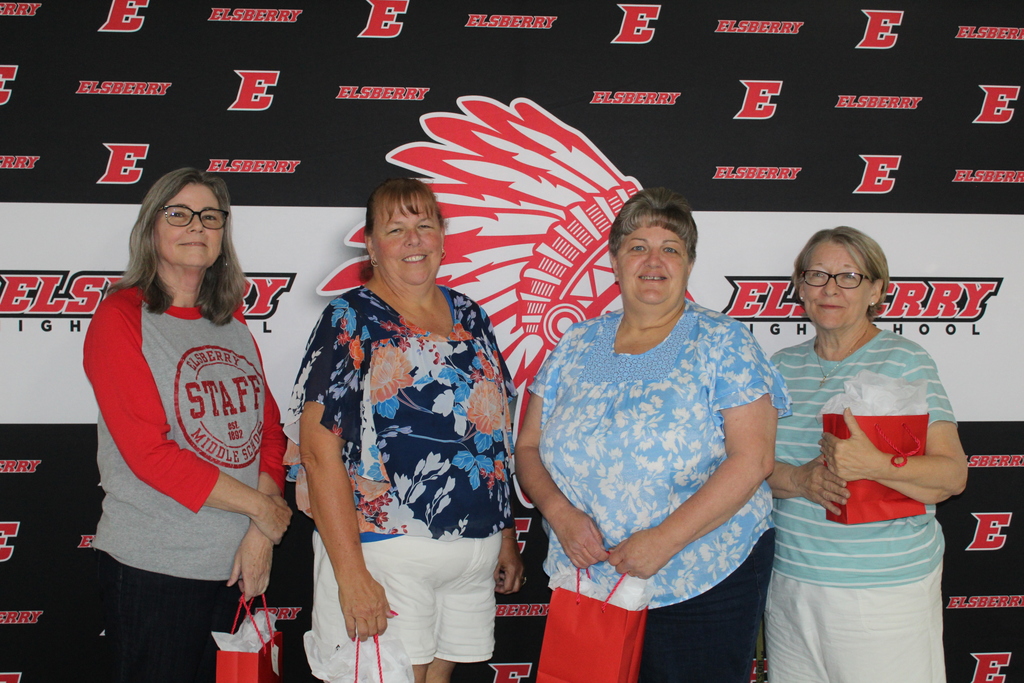 We encourage parents to be informed about the variety of tobacco products on the market. Currently products include electronic cigarettes, little cigars, smokeless products, sweet candy flavors, and new products designed to hide addiction in plain sight. Products are dangerous and deceptive and don't look anything like a pack of cigarettes. DESE is partnering with the Missouri Department of Health and Senior Services (DHSS) on a statewide campaign, "Tobacco is Changing", to educate parents about the different candy-flavored tobacco products tempting kids into addiction.
https://tobaccoischangingmo.org/know-the-products/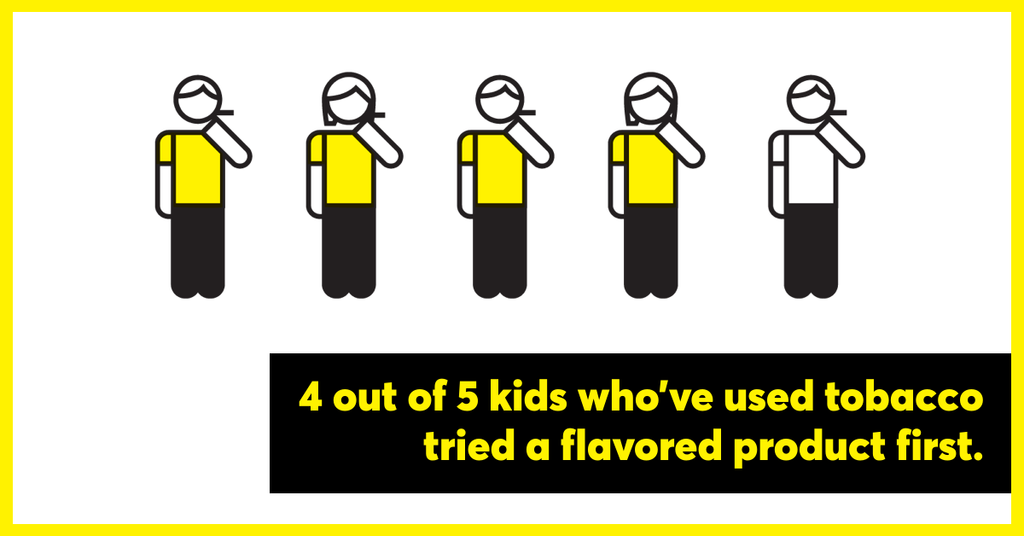 Final reminder for Summer School Enrollment. Students must be enrolled by this Thursday, May 25 at 3 p.m. to attend summer school. We need one online form filled out for each child in your family. Please call the office if you need assistance filling out the form. Click the link to access the form.
https://forms.gle/fZxdaSAVgA2nrgJj6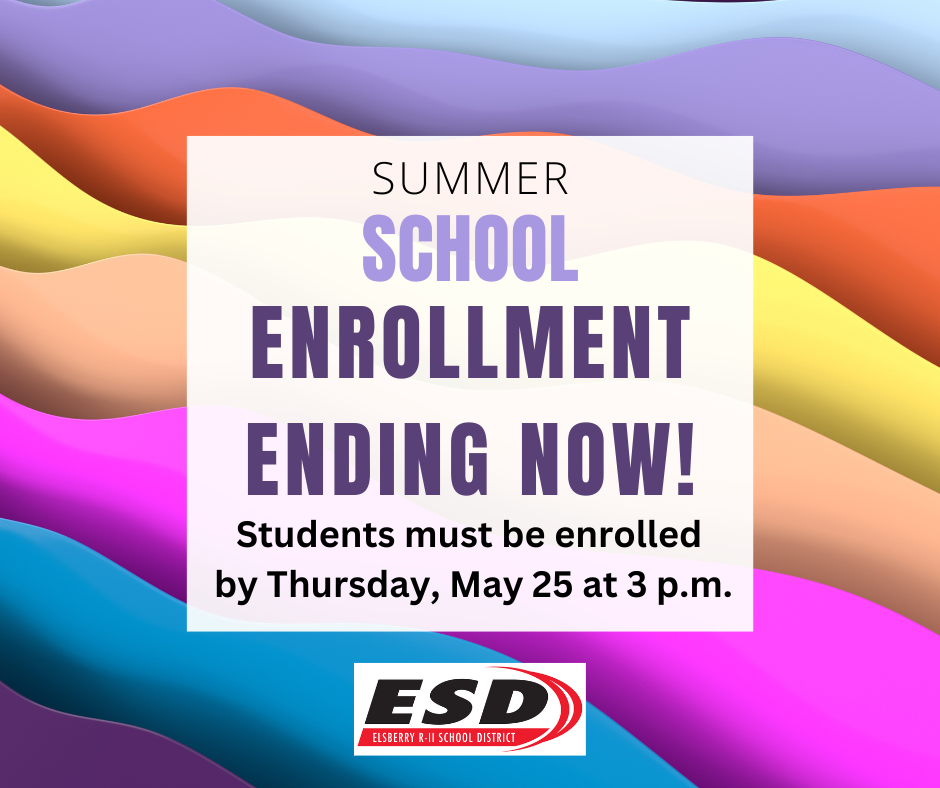 The last day of school is Thursday, May 25. School dismisses early at 12:35 p.m. on the last day. There will be no Explorer's Club or E2 on the last day.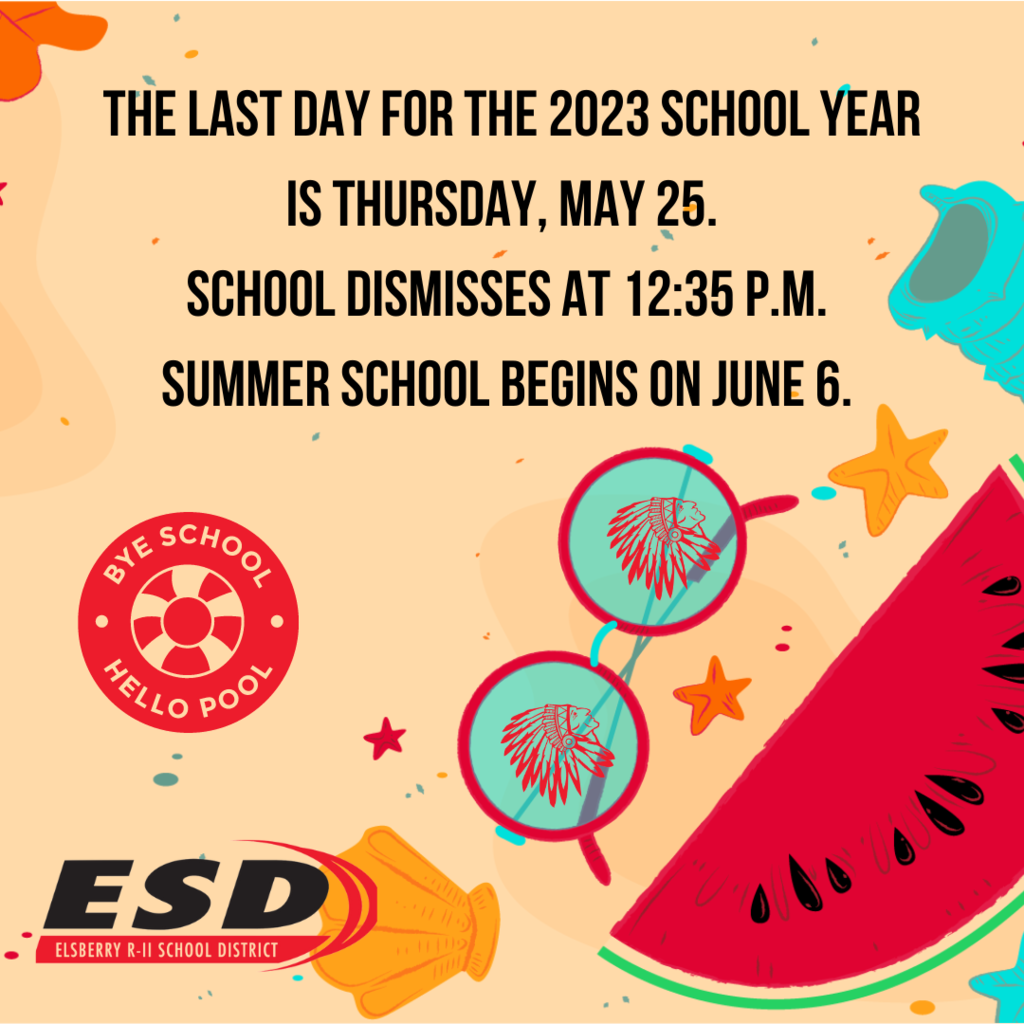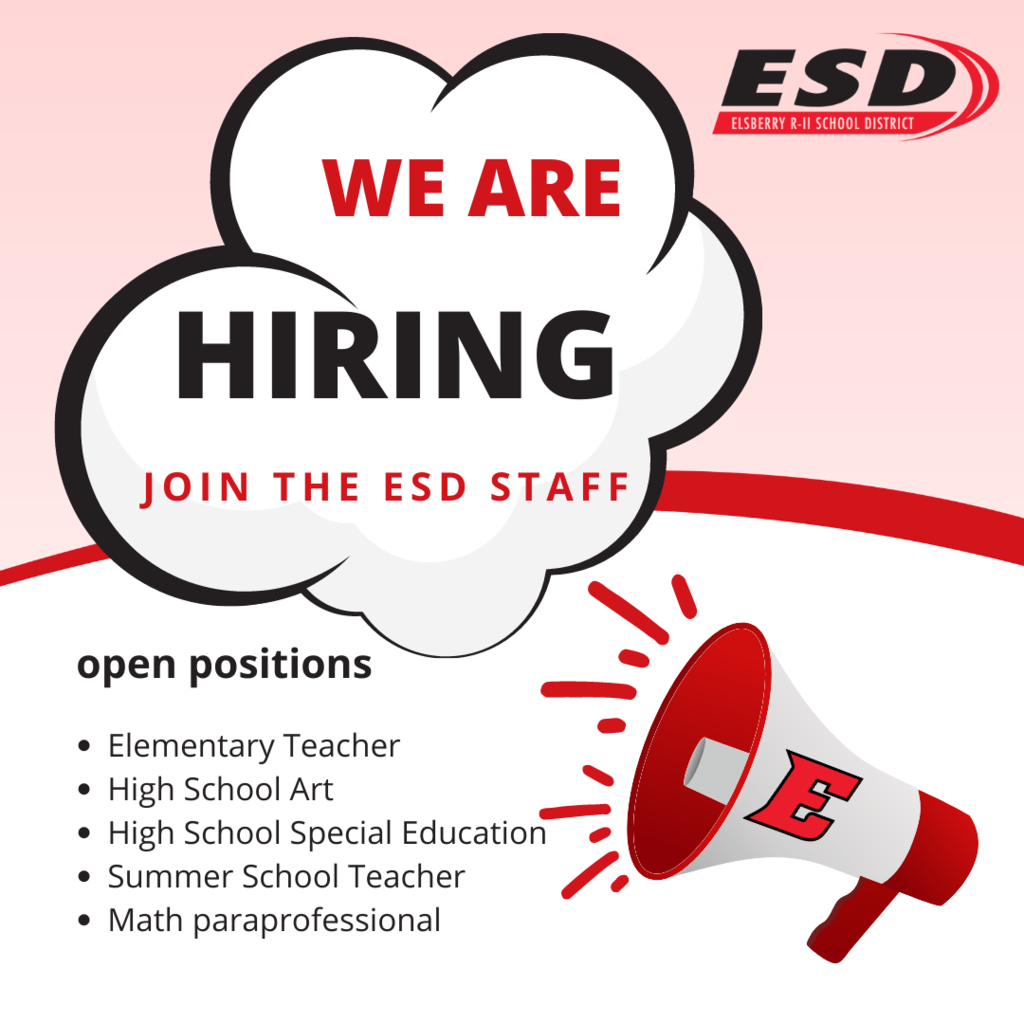 Laurell Keeven has been in the Superintendant's Office for three years. She is a graduate of Missouri State University, but said it will always be SMS to in her mind. One item she hopes to check off of her bucket list is visiting the National Parks in Utah.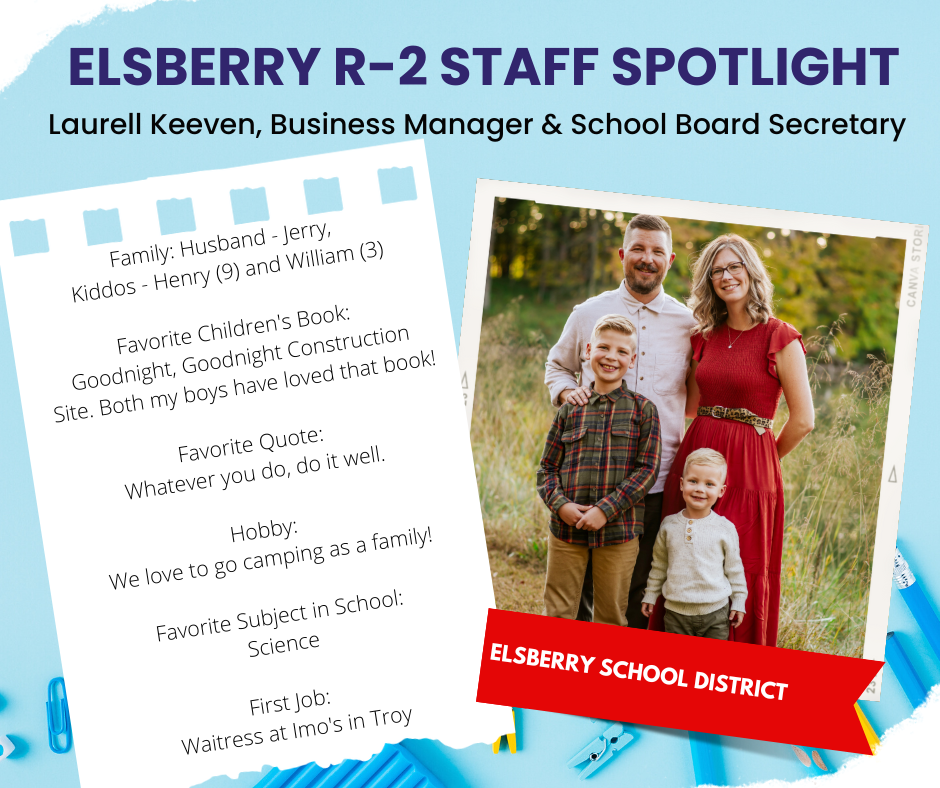 The Friends of Elsberry Literacy has provided 436 free books for students in 2023. If you would like to learn more, or if you are interested in donating to this organization, please contact Karin Busiere, FOEL Board President, via email.
kbusiere@elsberry.k12.mo.us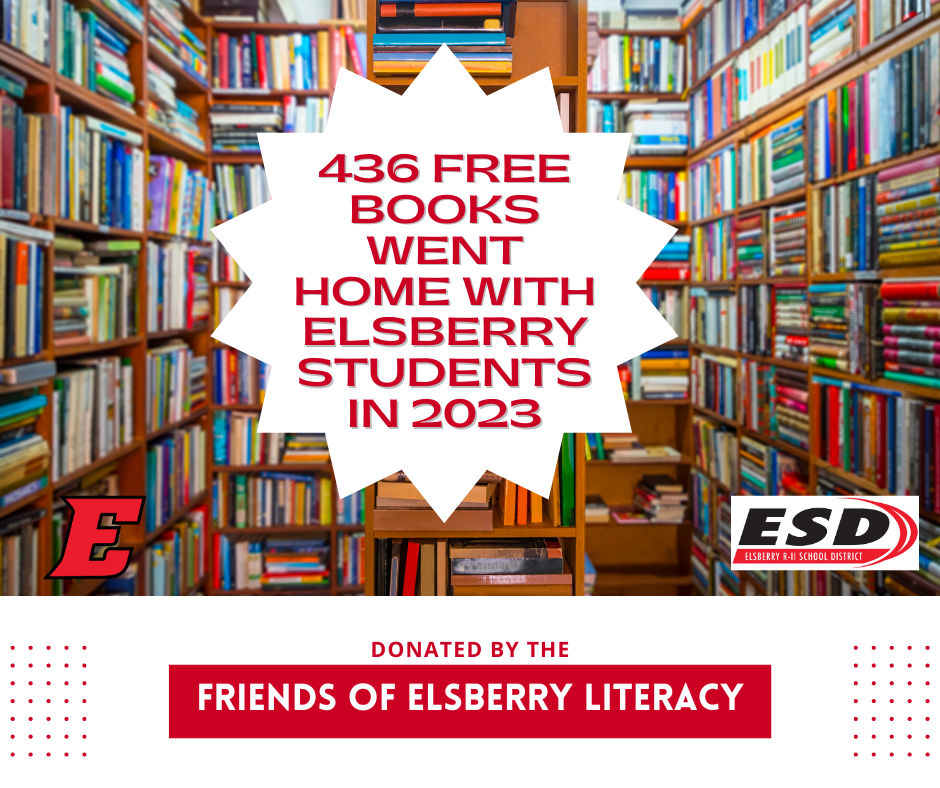 Rachael Robinson is a four year member of our special education staff. Rachael's advice to students is do your best. We all make mistakes, we just need to learn from our mistakes. Someday Mrs. Robinson hopes to ride in a hot air balloon and to visit Hawaii and Australia.

Karla Rimel has been a member of our special education staff for 16 years. She hopes her students will always remember how much she cares about them.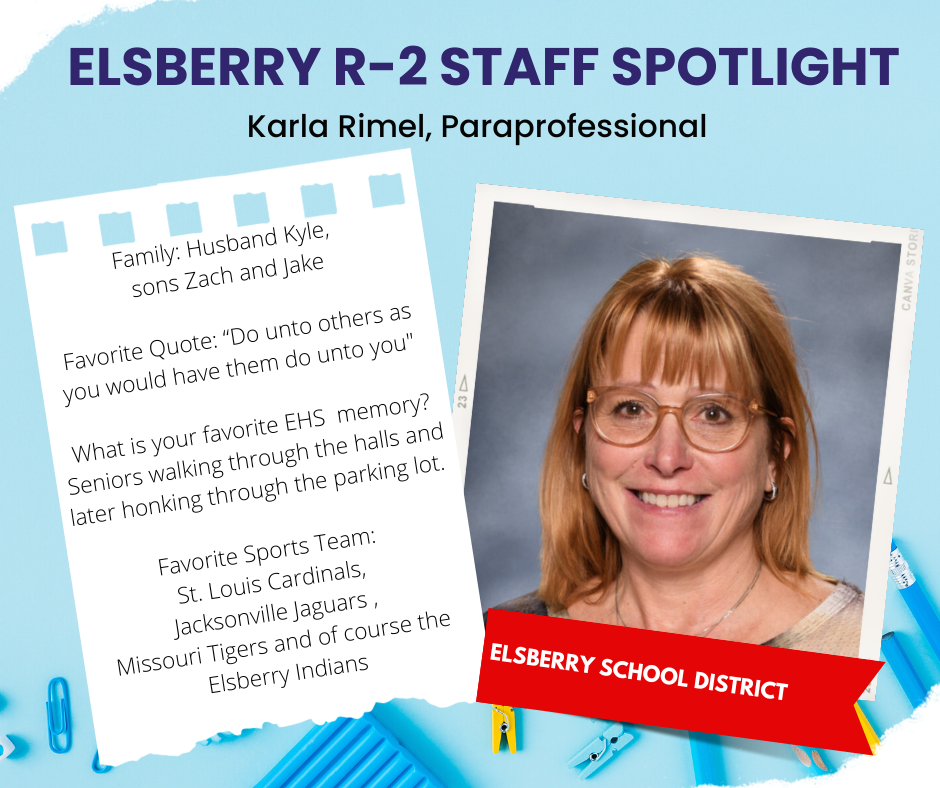 The Elsberry School District is experiencing significant plumbing issues affecting all of our restrooms. Therefore, we will dismiss school at 11:00am today. There will be no after school programming at Explorer's Club or E2.


Amanda Seeley has been a member of the ESD staff for 22 years. Now her primary role is elementary principal. Her journey to become an educator started at home. My mom was a teacher and so was my grandma on my dad's side. They both inspired me to become a teacher!

Today Dr. Tim Reller announced that the Elsberry School District has received a safety and security grant from DESE. This grant will allow the district to purchase an Automated External Defibrillator for each building, bleeding control kits for each classroom and update our classroom intercom system and video surveillance system.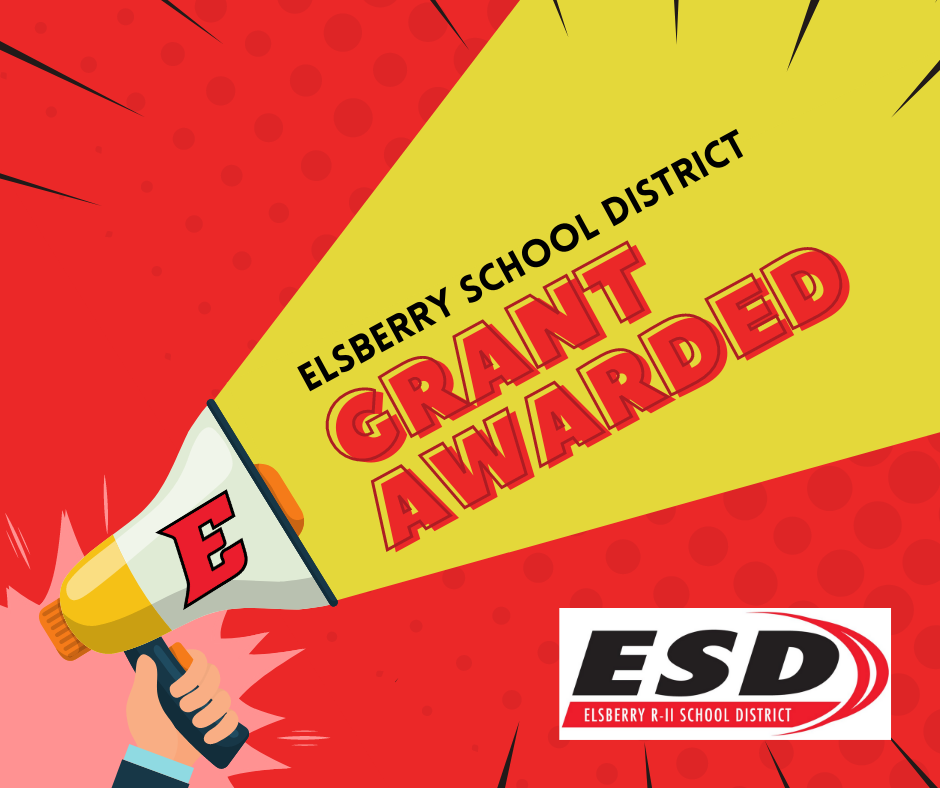 Mike Boedeker is the Elsberry High School Principal. Right now when not at school, you most likely find him at the ballpark with his own children. What is on his bucket list? He would like to go to every MLB Ballpark or travel on a road-trip to watch the St. Louis Blues.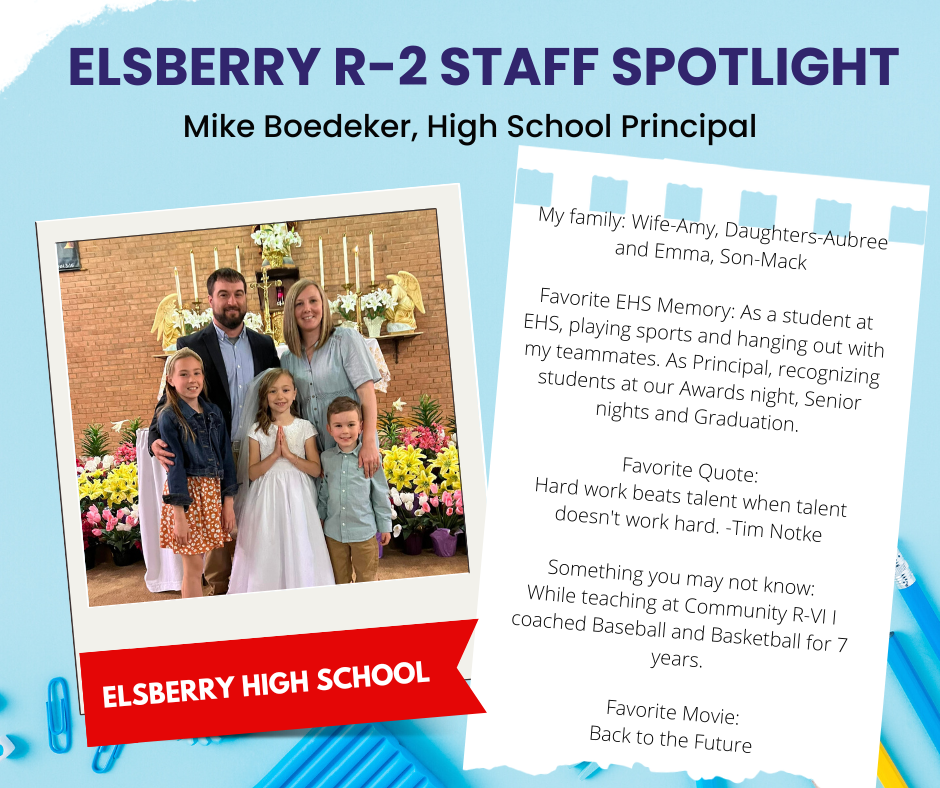 Elsberry School 2022-2023 PK-8 Yearbooks are on sale now! Click the link to order. Sales end June 16th.
https://bit.ly/44gICfL

Happy Principals' Day! We look forward to telling you in person tomorrow.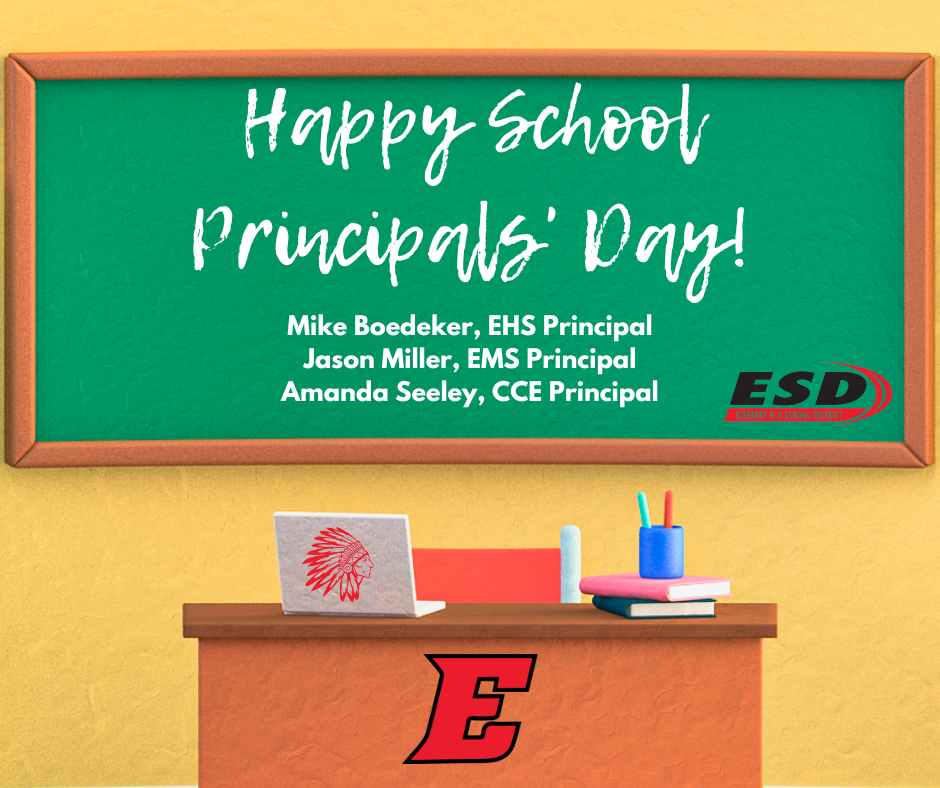 National Afterschool Professionals Appreciation week is ending. The ESD was awarded a 21st CCLC grant in fall 2011 to start Explorer's Club. In 2016 a new grant expanded to include E2 at the middle school level. Both programs continue today. Thank you to all of the staff, teachers, and bus drivers who work at EC and E2 currently and those who have been a part of afterschool througout the years.